---
As much as I might resist, there is a child in me that needs attention. The little girl who was neglected, abused, and voiceless. She wasn't tended to until well after she had disappeared into this adult body.
My programs were built around the needs of this child, because I realized that I was not the only one that harbored something deep that needed to be nurtured and healed. So much goes back to childhood trauma, the parent and mother wounds, and the deep grief we've experienced, yet never looked at in the eyes.
I've been thinking a lot about what it means to heal these pieces of us that rest deeply below ribcages and souls. I want to collectively gather so we can, as a community, tend to the little boys and girls that are asking for our attention.
I'm thinking of you today, as I honor my own small voice.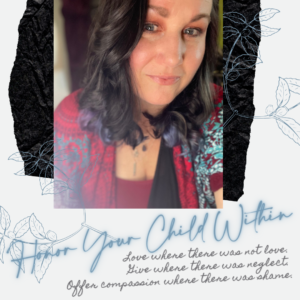 Honor Your Child Within
Love where there was not love.
Give where there was neglect.
Offer compassion where there was shame.
Love,