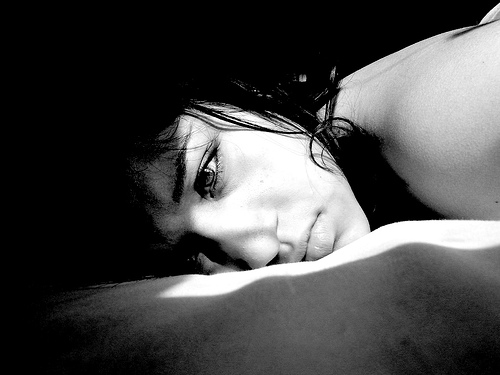 Carried down from cynical stairwells,
gravel accented with failure, loss, and violence.
I can no longer see the road where she danced.
Shadowed now by muscle and tissue,
bonded with a hurting skin.
Pebbles curse the path at her feet,
grinding together and dusting the air.
Her chest heaved,
pulling in dirtied breaths.
She did not know it would plant its seed deep in her lungs.
She did not know that all she would feel again,
would only be numb.
Inside her the toxic grew.
Flushing hope into a space that would be locked
and swollen into fear.
Darkness became a new friend—
and then an old one.
A daily ritual of lost movements vined up her stairway,
clogging entrances and destroying exits.
The cycle of depressed stones weighed heavy,
sinking into the tender skin,
and scraping bone.
It's hard to break.
She sees no windows on the wall
and the sun doesn't reach her world.
Calls to recover,
hit pavement instantly as they leave her lips.
Lost, is an understatement,
that needs far more than just a definition.
She does not know her way—
And I have yet to even ask her name.



Tag:darkness, Darkness Masquerade, depression, friendship, hope, jessica kristie, loneliness, love, poems, poetry, relationships, sadness