Introducing merchandise for Barbed-Wire Butterflies and for the advocacy against all forms of human trafficking. Show your support by wearing one of these unique hand-made pieces, sure to be an instant talking point. Keep the conversation going! Education is one step closer to prevention.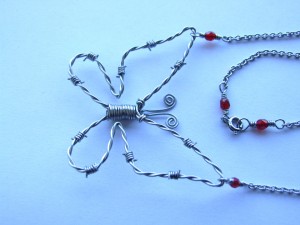 A portion of all proceeds will be donated to Courage Worldwide, an international, non-profit organization that is building homes around the world for children rescued out of sex trafficking.
About the artist:
Divine Hammer grew up living an almost nomadic lifestyle. Moving repeatedly, she was always the new kid . . . and an admitted oddball at that. It often made the public school system a dull and painful experience, so she would retreat into the more colorful world of her imagination, spending long hours sketching and dreaming of a more fantastic life. After many years of exercising her creativity in different ways, she finally settled on wire-work and has been addicted ever since. She now lives with her artist husband and two children in the beautiful coastal mountains of Northern California. You can see more of her work at UncommonFolk or visit her blog.