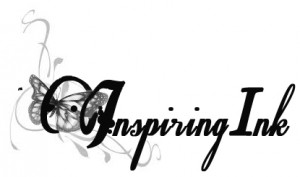 Welcome John Malik to Inspiring Ink.
Did you write or find something inspiring this week? Link it up and share it with us! 
John is one of those people that appear in your life and you wonder where they came from. The ones that are loving, generous, and honest. That is John. He has been nothing short of a blessing and the more I get to know him, the more awesome I realize he is. 🙂  John is a Chef and a writer, but most of all he is a genuinely good person. Get to know John and stop by his blog for some honest and fun writing.
His book Doughnuts for Amy is currently free on Amazon through Friday! 

It's Just A Peach
By John Malik
It's just a peach.
I lift one up with my right hand, allow my thumb to gently caress its skin.  I spin it in my hand and admire the warmth of its color, the soft creamy yellow that fades into sunny orange, dappled with crimson blotches.  It's His own summer fireworks show, right here in my hand.  This delicate fuzz yields to the slightest pressure, my mouth waters.  I heft its weight, gently caress its yielding flesh and guess it to be about six or seven ounces.
But it's just a peach.
I lift it to my nose and breathe deeply.  I recognize elements of vanilla, chamomile, lemon, papaya and honeysuckle.
Exhale.
I close my eyes as I run my right thumb over this peach.  I see a warm bowl of oatmeal covered with glistening peach quarters, the steam carries aromas of real maple syrup and a melting knob of butter.
Inhale.
I see large dices of chilled peaches, tumbling over a glittering, sugar topped shortcake.  A scoop of vanilla and cinnamon scented cream, whipped until it forms unsteady peaks, gently settles over the peaches.  The heat from the shortcake forms little cracks in the cream's integrity and creates shimmering pools of fat at the furthest reaches of the plate.
Exhale.
I see sparkling peach salsa with dabs of sweet onion, fresh lime, flecks of chive, black pepper and spicy grilled jalapeno as it's hungrily spooned over grilled Catfish.
Inhale.
I see my wife's eyes sparkling as she offers me a scorching hot taste of peach jam, redolent with cinnamon stick, cane syrup, lemon peel and vanilla bean.
Exhale.
I open my eyes and look again.  It's just one peach.  I carefully look over my shoulder then take a small bite.  The fuzz tickles my tongue, the hair on the nape of my neck bristles as the flesh surrenders its moisture and I close my eyes; flavors of Carolina and Gewurztraminer, Louisiana and honey cascade across my palette, memories of summer meals, past and forthcoming.
But it's just a peach.
I wipe my chin on my shoulder and grin as my wife slips her hand across my waist and quizzes me.  She wants to know what I'm eating.  I wink then move to kiss her, her eyes close, our lips meet and my left hand glides down her back.  Her lips curl into a smile as she recognizes the flavors of summer on my tongue.  She pulls me close then whispers, "Oh, it's a peach."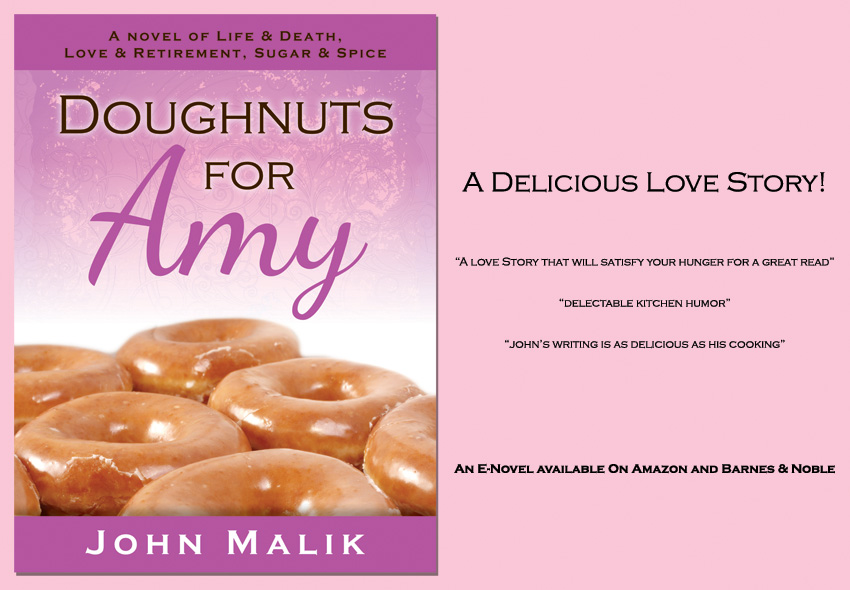 Purchase on Amazon and Barnes & Noble
Doughnuts for Amy is a tender, compassionate and emotional story of romance, redemption and retirement in the best tradition of modern romantic fiction. Doughnuts for Amy takes place at Woodmont, an upscale retirement community on the north side of Greenville, in the upstate of South Carolina. Nick St. Germaine, Woodmont's Executive Chef is struggling emotionally as he approaches the second anniversary of the death of his wife, Robin. Unable to handle the business of running their successful restaurant, the Stone Avenue Tavern, Nick sells the restaurant then drops out of the public eye.


About John:
Follow John on his Website & Facebook
John Malik is an award winning chef in Greenville, SC. Along with his wife Amy they owned and operated 33 Liberty Restaurant from 2001 until 2008. Following that he was Excecutive Chef at two upscale retirement communities in the Greenville area. John has a BA in English from Southeastern Louisiana University and has written for Smithsonian Air & Space, Saveur, the Greenville News, Greenville Journal, e-Gullet and has been featured in Southern Living, Bon Appetit and Chile Pepper magazines. John holds the whimsical title of Kingsford Charcoal Flame Master and was named Who's Who in America Barbecue for his sophisticated take on traditional smoking. While 33 Liberty was open John hosted the entire team of Michelin's "Red Guide" inspectors for a private meal and lived to talk about it. John has made numerous guest chef appearances including the Food Network, Fox & Friends, the International Food & Wine festival at Disney World, Great Chefs of the South (Beaufort, SC) "Fixin to Eat" a Salute to Southern Chefs (Paso Robles, CA), the Epicurean Evening (Los Angeles, CA) Charlotte Shout! (Charlotte, NC), Drager's (San Mateo, CA) and Greenville's own Euphoria.
John and Amy will celebrate 25 years of marriage in May of 2012.