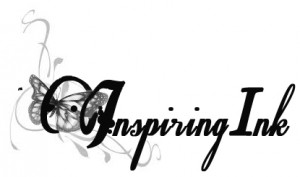 Welcome Becky Tsaros Dickson to Inspiring Ink.
Did you write or find something inspiring this week? Link it up and share it with us! 
Becky was one of my first online friends as I ventured into the blogging and social media world. She is feisty, forward and mega-talented. No joke, the girl can write. Her writing I would categorize on the more prose poetry side. I am of course a huge fan of prose poetry and Becky knocks it well over the fence and into the neighbors yard, five houses down. I always look forward to her blog posts. Her uniqueness always inspires.
Today I am posting Chapter 1 of the Novella she is writing on her blog. Thank you Becky for sharing with us!
Chapter one of Say My Name 
The Chinese believe that jade, if worn long enough, becomes the person who wears it. So that when you give it, you give a piece of yourself. But he and I don't need to exchange trinkets. We gave each other all that we could a long time ago.
I realize we can never be where we don't belong. The universe has plans we must abide. But if I had my way, I'd still be in his pocket.
In the lifetime we shared, I've gleaned exactly three things about him: He has family in Texas. He loves women who hold him as though in a vice. And when he looks at me, the scars that come from places like home – his and mine – melt away.
His lips were the first to meet mine. His body the first to follow the lines and curves of my own. His voice, the sound of puzzle pieces snapping in place. That's what happens with your first love. It carves a hole in the muscle and fiber, so that you have no choice but to wear it like a birthmark.
When we met, our parents were the same age we are now. I imagine his sun-bleached hair grays at the temples, just as the two-inch scar on my back is now nearly hidden among rose moles. Each year, the leaves keep changing color. He and I filled a Shaker box with halfhearted wishes, hushed tones and dirty little secrets, having no idea that it really does not get better than that. Now that we do know, it's too late.
Conventional wisdom says what you don't have, you don't need. But as I get older, one thing stands out as constantly being in short supply: time. Which is to say, maybe we only leave so we can come back.
It's lunchtime on Wednesday. I'm at a red light by the river, my fingers strumming the steering wheel in time with the heavy bass of Evanescence. It's insane that in a minute or so, I'll be visiting the man I've loved since before puberty, yet haven't seen in person for 20 years. Since we last met, I've had two husbands and two kids, a life entirely and purposefully removed far from where we grew up. The only part of my youth I ever missed was him.
Truthfully, Xanax is responsible for getting me behind the wheel today. Normally a nervous person, it's a miracle I am not vibrating in my seat right now. Loud music and this unseasonable 80-degree day distract me enough to travel down the highway, knowing I am about to collide head-on with everything I left behind.
Before I can think on that too much, the light turns green. I coast across the intersection and pull into the park. Just like that, he's standing to my left, adorned with the same buzz cut and wide grin I knew so well growing up.
He's tan and lean, donning Levis that show off chiseled thighs. A stark white T-shirt sharply contrasts with his denim blue eyes. His features soften when he sees me. Not for the first time, I struggle to remember why I left. Then I see his hands out of the corner of my eye. A small tremor in his fingers. He's nervous, too.
I pull up just beyond where he stands, slam it in park – not bothering to shut off the engine – and open the door in a rush. In two long strides, my arms are around his torso, my face buried in his shoulder. This is what I love most: I fit perfectly inside his chest, as though we have been carved from the same tree. We don't hug. We meld.
Then we are nose-to-nose. He squints at me, still silent, smiling  broadly.
"How are you, John?" I whisper.
"Better now."
The words, issued from his thin, pink lips, surrounded by a clean-shaven and sharp jaw, remind me of what's always hung between us – something finite yet unfinished. He has a boyish charm, which is only enhanced by intense good looks. Behind me, I hear the closing of "Bring Me to Life." It's then I remember the car is still running.
"(Wake me up.) 
Bid my blood to run.
(I can't wake up.)
Before I come undone.
(Save me.)
Save me from the nothing I've become."
I take a small step back from him, craning my neck toward the sound. I don't want to let go of him long enough to shut it off. He sees the struggle in my face, and guides me back to the open door. It's ridiculously easy for us to glide our fingers together, as though we've woken up beside each other every day for the last two decades. But life is never that simple.
Out of nowhere, three weeks ago, I picked up the phone to the sound of his soft, dewy inflection drawing out my name. My knees buckled, inflaming the itch at the back of my neck. He didn't have to identify himself. I knew. This man's hands encircled my hips like so many chains of love. Then he cleared his throat and said the thing.
"I'm dying."
Read Chapter 2 here.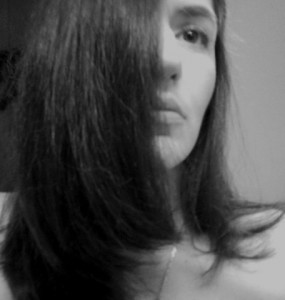 Becky Tsaros Dickson writes. Because it's what she knows.
Stints as a reporter for two daily newspapers, which included two Presidential Primary races, taught her the value of a well-chosen word. She left journalism in 2006 to play Momma, but instead found herself filling blank pages while the kids napped. Her first book was released in November 2010. The collection of short stories, aptly titled I Could Tell You Stories, comes with its own play list and a boatload of art. (So cool.)
Her new project, a novella called "Say my name," is being released on her blog, one chapter per week. Her third book, temporarily dubbed "Don't Ruin my Life: Crap my kids say" is in the works.
Becky lives with her husband and two sons – and too many dogs – in the middle of nowhere, New Hampshire. It's where she belongs.
Blog:  Thinking Too Hard
Twitter:  @thinking2hard13
Facebook:  Thinking Too Hard
Buy the book! I Could Tell You Stories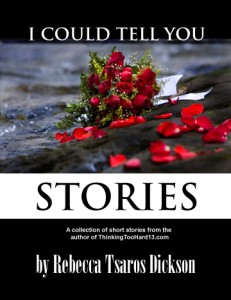 About I Could Tell You Stories: Love. Lust. Faith. Truth. Intuition. Hot! I Could Tell You Stories is one woman's story of love and loss. Warning: This book will make you feel like never before