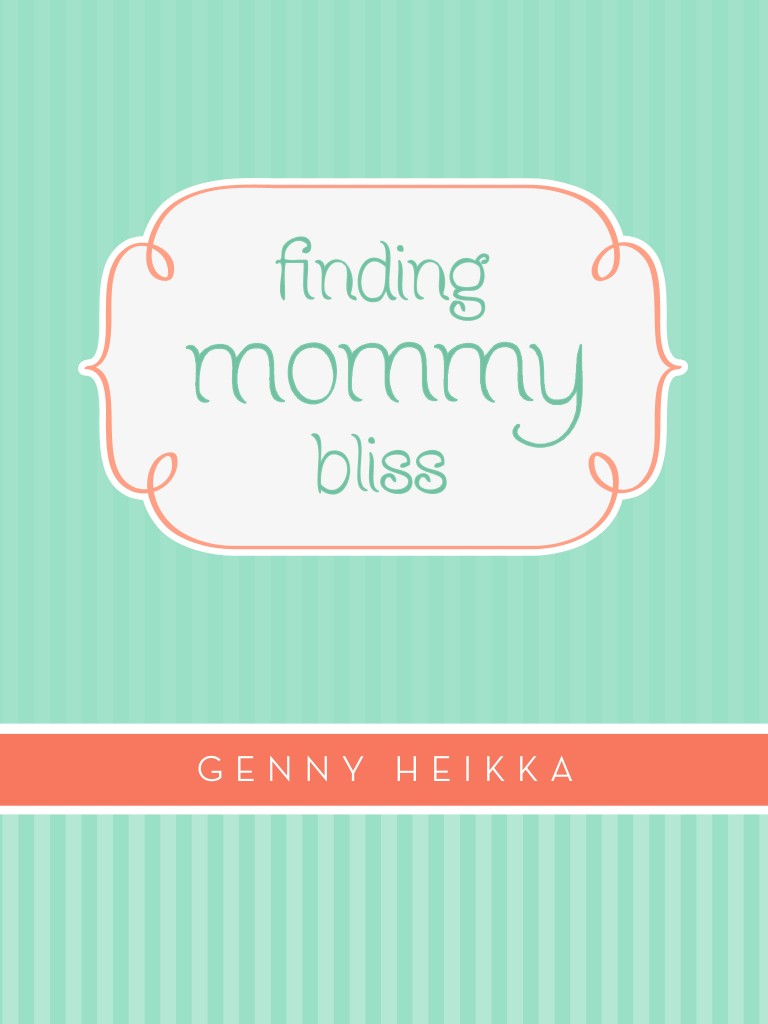 It is rare that I do an actual review. I made an exception for Finding Mommy Bliss because I'm a big fan of Genny Heikka and her blog. She inspires moms daily and speaks from her heart.  Her genuine spirit pulls you in and comes from a beautiful and honest place. I was really excited to find out that she was doing a multi-media book that you can buy through the free App, Snippit. Finding Mommy Bliss is available now for an introductory price of only $1.99.
In a world where we are all overworked, often struggling and feeling alienated in our parenting, Finding Mommy Bliss genuinely supports and fills a need for moms everywhere. Genny Heikka provides valuable ideas to find balance while continuing to nurture our children and relationships. She nudges you in a direction to discover that true parenting comes when we surrender and remember God's grace. A beautiful reminder that even in the most difficult times, we are not alone.
Get Your Copy Today! Just download the free Snippit App from iTunes and search Find Mommy Bliss & Download! 
Here is a very cool feature–anytime you tweet anything with the hashtag of #mommybliss, it will be able to be seen in Finding Mommy Bliss, so readers who purchase Finding Mommy Bliss and click on the social media icon within the pages will pull up tweets with that hashtag, and may have visibility to you!
About Finding Mommy Bliss:
Life is busy and motherhood is busier. It can be easy to function on auto-pilot, missing the moments that make parenting rich. It can be easy to feel overwhelmed and isolated too. Being a happy mom isn't about sailing through motherhood. It's not about having it all together or having the best kids. Parenting can be chaotic, stressful, and complicated. There are temper tantrums and sibling squabbles. There is self-doubt and frustration, even fear and uncertainty. But there is also laughter and love… and, yes, even bliss. Finding Mommy Bliss is filled with stories and tips that will encourage and inspire you to find the bliss in being a mom (even when it's hiding under mountains of laundry!).
-Finding Mommy Bliss focuses on finding happiness in the thick of parenting through daily choices to look at
things from a fresh perspective. The book combines short, practical tips and information on how to make these choices with real-life stories and experiences that will make moms laugh, cry, and be inspired to love the best they can every day. The Snippet format makes this book an easy read for busy moms (you can read the short chapters in the carpool line, in between soccer games, even while the baby takes a short nap) and includes short chapters, interactive, engaging features such as parent practice tips, audio and video clips, questions for reflection, and A Mom's Prayers.
-Finding Mommy Bliss encourages moms to come alongside other moms. When Genny started her parenting blog, she was inspired by the sense of community among moms, and the desire for moms to connect with each other. Though motherhood is unique to each mom, there is a universal desire to experience the journey—the good, the bad, the pretty and the ugly—together. Finding Mommy Bliss brings moms together and helps them realize that whatever they are going through, they aren't alone.
-Finding Mommy Bliss outlines 20 practical tips to becoming a more blissful mom. The new Snippet format provides a framework for moms to connect with Genny and other moms, as well as engage in the reading experience in an new way. (It's sort of a cross between a book and a blog.) The book includes personal photos, video and audio clips from Genny, questions, parent practice exercises, and inspirational prayers for moms.
Follow Genny on her website and Twitter
I live in Northern California with my husband Mike and our two kids, where I balance motherhood with writing and love both. We have a dog named Bailey and a cat named Charlie and we've been through far too many fish and mice to mention.
When I'm not running our kids to soccer or swim team, you can usually find me writing, speaking, reviewing books, or helping with communications at Courage Worldwide, an amazing non-profit that's building homes for kids rescued out of trafficking.
I love getting together with friends over coffee and sharing what's going on in our lives. When I started my blog, MyCup2Yours, that was my thought; I wanted to create a place where people could spend time together and "share a cup"… finding encouragement, support, tips, and inspiration.