This last month I had the pleasure to meet a truly endearing and awesome person. Connie Post is a strong woman. You can see it in her eyes and hear it in her voice. She gracefully weaves her stoic heart with her unlimited compassion. On top of this, she is a gorgeous word weaver. You get wrapped up in her story as she speaks so eloquently of her journey that led deeply into the world of autism. I am so honored to have Connie here today to share some of her story. Read, connect, and pick up her latest collection.
My Son Thomas was diagnosed with severe autism when he was three years old. I had been writing poetry since I was a kid, but his diagnosis catapulted me into a new stage of writing. In my later twenties and early thirties, I wrote two books of poems about my son, Thomas. The first, Seasons of Love, Seasons of Loss, dealt with my discovery and gradual acceptance of his autism. The second, Letting Go, chronicled the difficult journey of placing him in a residential group home. Both books were a form of catharsis for me and I didn't think I would write another book about autism. But as the years went by I started noticing a new collection forming and saved the poems until I thought a manuscript might be ready. It was with some trepidation that I created the manuscript for "And When the Sun Drops". A dear friend (and poet) encouraged me to submit a third manuscript about Thomas and I was glad to be offered publication by Finishing Line Press. At first, I was uncertain about a third book, however, the more I thought about it, the more I came to feel that such a book could be really helpful to others. Many people, including myself, have written about their early experiences as a parent of a child with autism, but few have focused on what happens to our kids as grown-ups and how autism continues to affect our lives. Over the next year, as I wrote some additional poems, the manuscript for And When the Sun Drops came to life.
I have been giving presentations and talks about autism since Thomas was about 7 or 8 years old, so the poems in my newest book
capture all those years of advocacy and seasoned experience. I always weave my poetry into the larger conversation about autism and how to cope. I have always enjoyed giving talks to college groups, book clubs, and parent groups, to raise awareness and build support wherever possible.  Raising a child with severe autism can be heartbreaking, challenging and create a sense of isolation.  Since the release of the book I have received incredible feedback and it has been deeply gratifying to know the poems in "And When the Sun Drops" have touched many and told the story of our family, and raised awareness. Often times, the stories of those adults with autism who do not speak get brushed away by the media.  As stated on  one of the first pages of my book, I wrote this, "For Thomas, for all the words you could not say".

Taking you back to your group home
It's the same ride
fourteen years have passed beneath the wheels
one hundred eighty three miles
round trip
I think only the road understands
remembers the fierce quiet
on the way back
I used to bring the green blanket
but now you like the red one better
the halfway mark is the truck stop
where the hay field ends
when you rock back and forth
the car moves and at times, you laugh
even then, people stare
even from lanes away
they don't understand that a car
carries a trunk of untold stories
they don't understand how many times
I've made this trip
pulled away from the curb
groped for my sanity beneath the seats
I have raged at the fields that have no way of
making it better
I have counted the road signs
when an hour was a place to drown
each town I pass remembers
the way you looked at me out the window
the last Sunday good bye
the way my chest caves as the water
rushes in
there is this one town, though, that has walnut orchards
where the rows make sense
It flooded last fall
It's a place where you grabbed my arm once, suddenly
deep in the teeth of winter
I looked back and saw you,
wrinkling your brow, leaning towards me
eventually, all the cars around us disappeared
the road fell beneath the silence
and the orchards looking on
telling us to hold on
to inhale this hourless road
and to just keep going
Originally published in Calyx, Summer 2009 Issue 25.2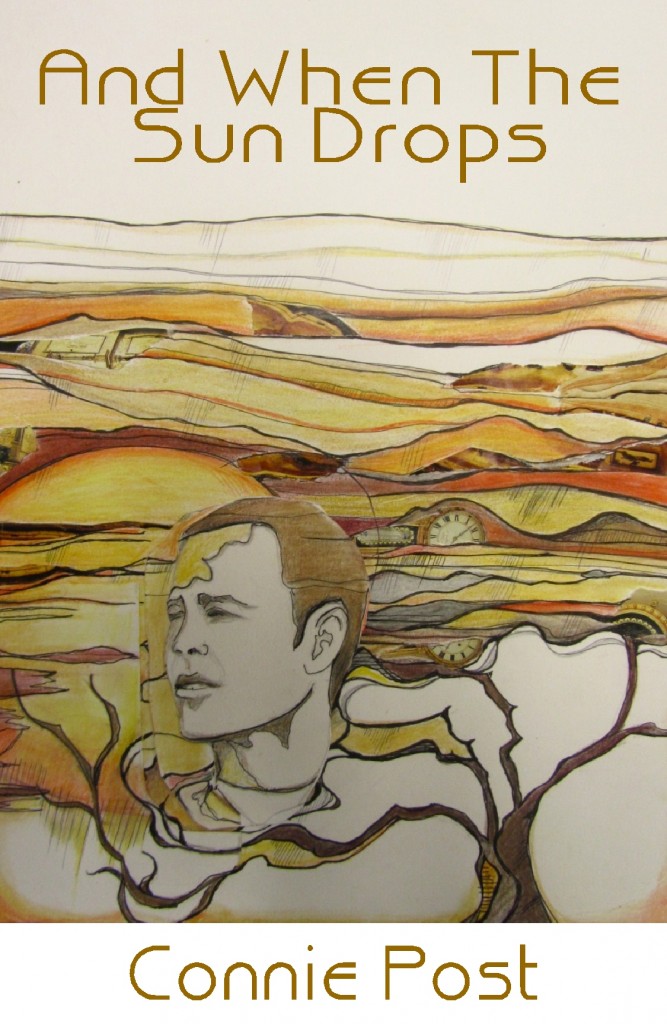 Purchase from Amazon or Finishing Line Press
Reviews: 
Editor's Choice Award for the Fall 2012 issue of the Aurorean.
"Connie Post's chapbook, And When the Sun Drops, (Finishing Line, 2012) is both straightforward and moving, covering 20 years in the life of her autistic son, who is also unable to speak. The language she uses to express life together with him and his sister is disarmingly simple, coupled with brilliant turns of phrases ("since he can't speak… how do you know what he wants?" … "how do I know when it's dawn…") Her descriptive ability involves the reader in the hard-hitting reality of disability at the same time it envelopes one in their family. "You are not merely metaphor/ trying to take shape in a poem….") She blesses the group home caretaker who "can make an origami out of/ any shape of loss/ and make it somehow/ feel like gratitude." The word love is used in a common way, only once that I noticed, to imply its larger meaning: "I know how much you love/ the chicken I will make// you and I both know/ how it must simmer/ for the longest time." – Peggy Sperber Flanders, Reviewer & Editor, 9/2012 Comstock Review (New York) www.comstockreview.org
"Post's latest collection, "And When the Sun Drops," will touch the hearts of families living with autism and reach into the hearts of those not living with autism. Keep a box of tissues at hand for poems like "Autistic Son, Almost 19," in which she writes, "A Sunday in October is over / You won't be home again until Thanksgiving." In the same poem, you'll understand a mother's love when you read, "your shirt is on inside out / I leave it that way." Post's focus on everyday living is what brings this collection together, what makes readers become involved, and what makes them angry when she writes, "how do I tell you / that there is bigotry in the world / hidden in neighborhoods / with white doors / and narrow streets" in "A Letter in the Newspaper." The poem "To a Hero Twelve Miles Away" introduces readers to the group home care provider who "let me call / as many times as I needed," and even though the mother "didn't know what pajamas / you would choose," she knew she  "could trust you / to see the complexities of its shadows." Don't worry about crying over each page. There is much to celebrate in this collection. Post's writing is clear, her images strong and always just right, as they must be." – Trina Drotar, Sacramento Poetry Press

About Connie: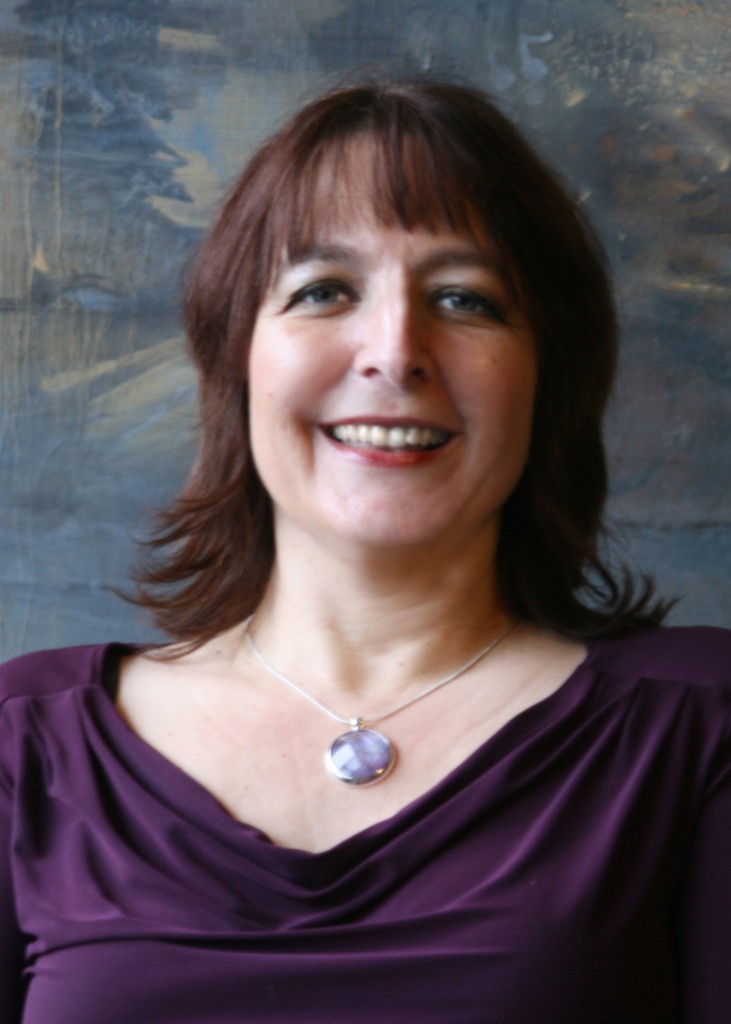 Connie Post served as the first Poet Laureate of Livermore, California from 2005- 2009. Her work has appeared in  The Aurorean, Calyx, Kalliope, Cold Mountain Review, Chiron Review, Crab Creek Review, Comstock Review, DMQ Review, Dogwood, Pirene's Fountain, The Pedestal Magazine, Psychic Meatloaf, Sliptstream, and The Toronto Quarterly.  She was the winner of the Cover Prize for the Spring 2009 issue of The Dirty Napkin and the winner of the 2009 Caesura Poetry Awards from Poetry Center of San Jose. Her most recent book "And When the Sun Drops" will be released in Summer 2012 from Finishing Line Press.  She is the host of the popular "Valona Deli Second Sunday Poetry Series" in Crockett.
Follow Connie on her website.