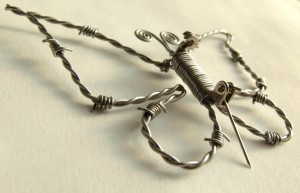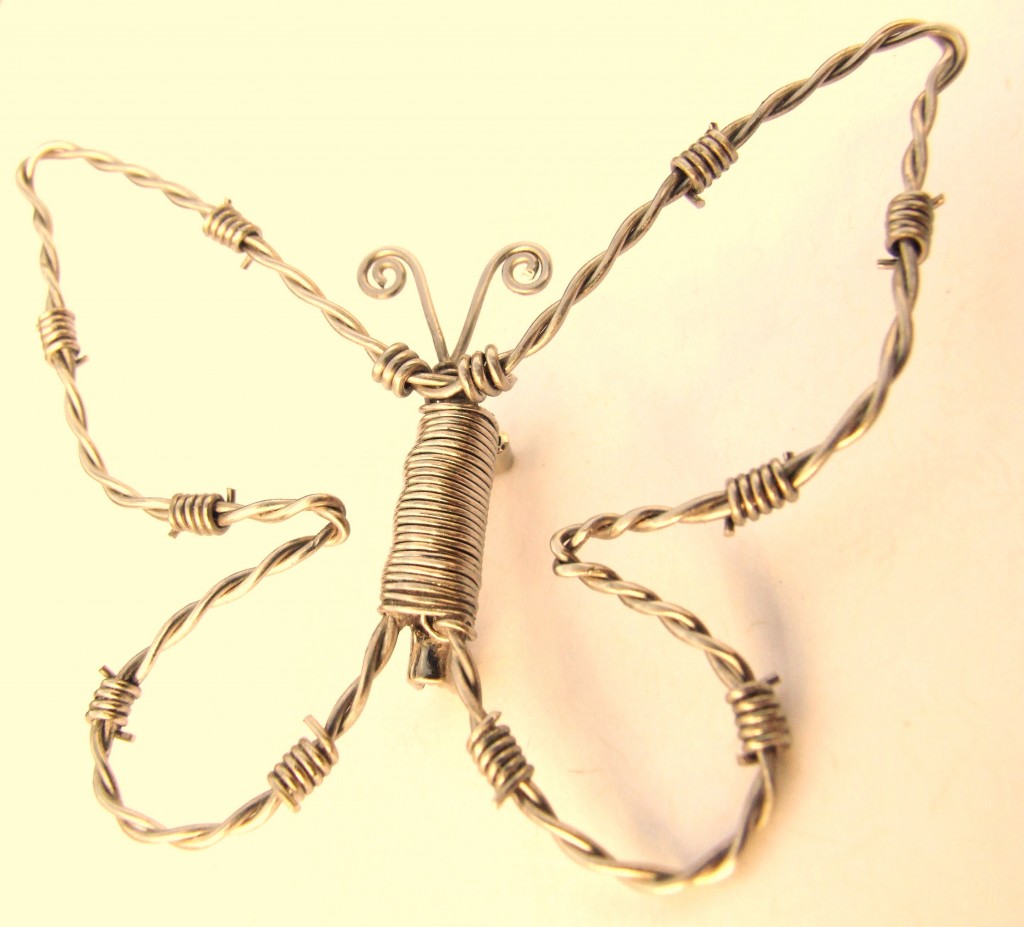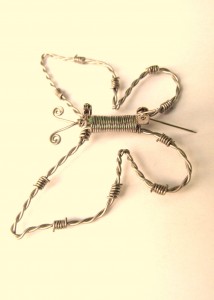 $48.00
$5.oo Domestic $8.00 International
Product information:
The butterfly is very sturdy and lightweight, with a wing span measuring approximately 2.5 inches in width and 2.25 in height. It is fastened in back with a solid stainless steel pin-back, and with proper care should last its owner a lifetime of advocacy, and support for the voiceless.
This necklace is constructed almost entirely from stainless steel wire in honor of author Jessica Kristie's novel, Barbed-Wire Butterflies, a story which explores the nearly invisible world of human trafficking. Many people do not realize that the illegal trade of human beings for the purposes of commercial sexual exploitation or forced labor is still an enormous problem in modern society. By purchasing and wearing this handmade pin or necklace, you will be showing your solidarity with those who combat slavery as a portion of all proceeds will be donated to Courage Worldwide, an international, non-profit organization that is building homes around the world for children rescued out of sex trafficking. You will help raise awareness every time someone asks you about your truly unique pendant.
* Because the pendants are handmade individually in the USA, each will be slightly different from one another and the product photo, making for a unique, one-of-a-kind work of art.
** The barbs on this butterfly are meant to be symbolic, and have been filed smooth to prevent injury. However, they do protrude from the wing approximately 1 mm, so you may want to avoid wearing these pieces with delicate or porous fabrics to prevent injury to your favorite outfits.
***Each piece is hand-made so please allow up to four weeks for arrival. This time could be much shorter but depends on order volume.
About the artist:
Divine Hammer grew up living an almost nomadic lifestyle. Moving repeatedly, she was always the new kid . . . and an admitted oddball at that. It often made the public school system a dull and painful experience, so she would retreat into the more colorful world of her imagination, spending long hours sketching and dreaming of a more fantastic life. After many years of exercising her creativity in different ways, she finally settled on wire-work and has been addicted ever since. She now lives with her artist husband and two children in the beautiful coastal mountains of Northern California. You can see more of her work at UncommonFolk or visit her blog.