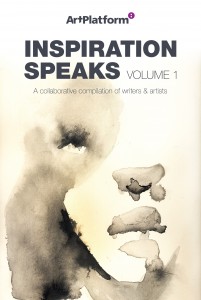 Inspiration Speaks is a project created by Nichole, founder of ArtPlatform.org and myself.  This is a collaboration of writers and artists with a large portion of all proceeds going to charity.  We are blessed to have Winter Goose Publishing on board and hope to have a new volume each year.  We will open submissions on our Writing Room for each new volume around the second quarter of every year.
•••
ArtPlatform is a simple idea with a big heart. Their role is to enable contemporary artists from around the world to offer a selection of their work for sale in aid of charity, while being a marketing tool for artists and an interesting online destination to visit and catch up on art for buyers, charities and the public.
Visit their website at ArtPlatform.org
Follow ArtPlatform on Twitter & Facebook &  Show You Care on Facebook.
Inspiration Speaks is a perfect coalescence of the beautiful worlds of art and literature by the not for profit organization ArtPlatform.org. Step inside these pages where heartfelt emotional writing collides with breathtaking art to produce a captivating world of imagination. A large portion of all profits will be going to benefit ColaLife; dedicated to helping remote communities in need. So open your heart – then open your mind – and allow inspiration to speak to your soul.
Paperback: Barnes & Noble and Amazon / Amazon UK
Published by Winter Goose Publishing