Meet Anthony Reese!  Anthony struck me with his great ideas and creative smarts.  He is a very talented young man with a path in life that he has embraced full force.  I admire men like Anthony and know his mom must be really proud of him.
Anthony tells us a bit about him:
My name is Anthony Reese. I'm a Senior at North Greenville University and live with my wife Joanna in Hendersonville, NC.
My passion is outreach. I love to write, create short films, travel, and teach, and through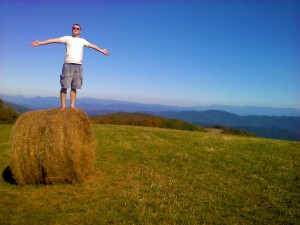 all of that, I hope to inspire others to better themselves through an active walk with Jesus Christ.
Through me, God has created several different projects that can all be found on this website. First, is my written work, which can be found in my blog. Next, is Silent Film Productions. I, along with a team of guys from NGU, film music videos to popular contemporary Christian songs. Also, I write devotional blogs for The Desk Ministries, a project I've been working on since 2009.
Between school, my marriage, and the countless projects I work with, I am a busy guy. But I love what I do. Aside from all that, though, I'm an avid twitter-er and am addicted to Wii. Basically, I'm just your average college kid who's about to step into the real world.
Wish me luck!
****

Anthony has some great projects on the home front and in particular his Young Adult Series West, which is the first novel in a four-part series. Right now, he is writing the second draft and hopes to start on the sequel East by September. The first four chapters of West are exclusively available on his website.
****
Here is the synopsis of West:
Seventeen-year-old Erin Bodely wakes up slouched against a rusted dumpster in the shadows of a downtown alleyway. Blood pours from the gash on her left cheekbone, and who's to blame? Cameron—at least according to her.
Erin never forgets the first time she saw Cameron's face. Overwhelming joy filled her heart as she gazed at his tiny body, but since then, her life has only spiraled downward. Erin was Weisville High School's most popular cheerleader. She was on track to the nation's most prestigious university. She was happy. Now, she's a teenage mom with no friends and a ruined reputation.
Cameron is—or was—the only encouragement in Erin's life. But the Department of Social Services took custody of him months ago, and now, her life consists of court battles and bitter arguments with her parents. Erin is tired of the irremovable footprint she's left on her hometown Weisville, Georgia. She would give anything to get out.
Attempting to press forward only because she knows no other solution, Erin's half-hearted efforts result in the loss of her job and the fear of not being able to graduate. Her parents have done everything to push her away short of asking her to move out, so Erin, spitefully seeking to fulfill their desires, leaves home.
Erin finds a surprising relief when a particularly kind-hearted man mistakenly provides a way out of small town Weisville, but she realizes that leaving is not quite as simple as boarding the next train.
****
As of right now, Anthony is not self-publishing or being considered by a publisher.  His goal  is to create awareness about his book by giving his readers the first four chapters to check out for themselves.
I wish you the best in all you do Anthony.  I admire that you have found your way so early on in life, and that you are dedicated to making a difference in those around you.
Take some time to read Anthony's blog and his chapters from his book West.
You can find Anthony here:
Website: Anthony Reese
Follow Anthony on: Facebook
Follow Anthony on: Twitter