In 2011, I began my journey into the fight against human trafficking. I've since written a fictional account entitled Barbed-Wire Butterflies as a way to continue the conversation. I continue my work through educating others and advocating against all forms of trafficking.
In 2013, I expanded my advocacy to work with grassroots issues that directly correlate to human trafficking and our most vulnerable populations. I worked with the homeless and those with addictions within my local area while also coordinating with community members to help improve and change the mental health system.
As of 2016, I devote my time to an all inclusive space that promotes meeting you where you are in your healing journey. Here I offer individual counseling and courses that inspire you to be your best self. You can find out more at Soulshift Seven.
More on Human Trafficking:
To report a potential case of human trafficking in the U.S., please call the U.S. Department of Justice trafficking hotline at 1-888-428-7581, or the CAST twenty-four hour hotline at:
1-888-539-2373
24 hours a day, seven days a week, victims or people with knowledge of a trafficking situation can now text "BeFree" (233733), and NHTRC call specialists will respond via text to address each individual's needs.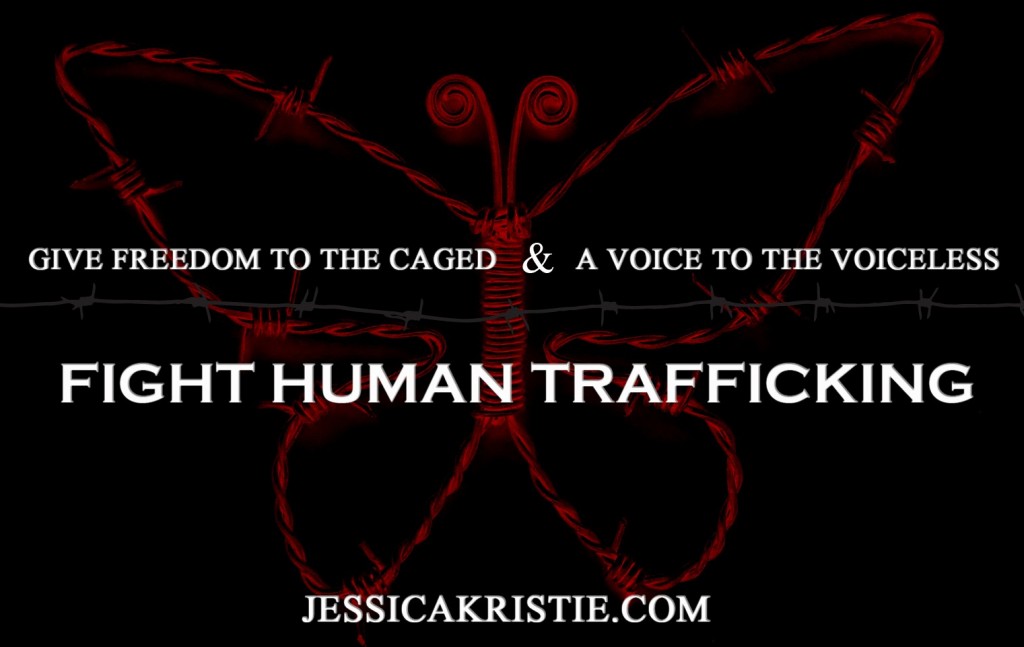 My movements, destination, thoughts, and choices are all my own. I am not caged or left voiceless… that is my freedom. – Jessica Kristie

What is your freedom and how can you help give it back to those that it has been stolen from?
There are an estimated 29.8 million slaves in the world today. An estimated 4.5 million of these are sex trafficking victims worldwide and 98% of sex trafficking victims are women and girls. Modern day slavery is all too real. Educate yourself and your children. Education is one step closer to prevention.
100% of my author print royalties and a percentage of digital copies and other selected Barbed-Wire Butterflies associated merchandise will go to fighting human trafficking.
Resources:
HAVEN—Ending Violence. Changing LIves.
Courage Worldwide, courageworldwide.org—Changing the World One Individual at a Time
Don't Sell Bodies, dontsellbodies.org – Non-Profit
International Labor Rights Forum, laborrights.org—Building A Just World For Workers
Anti-Slavery, antislavery.org —Today's Fight for Tomorrow's Freedom
Free the Slaves, freetheslaves.net—Dedicated to Ending Slavery Worldwide
International Justice Mission, ijm.org—International Justice Mission is a human rights agency that brings rescue to victims of slavery, sexual exploitation and other forms of violent oppression
ECPAT International, ecpat.net—A global network of organizations and individuals working together for the elimination of child prostitution, child pornography and the trafficking of children for sexual purposes
Not For Sale, notforsalecampaign.org—creating tools that engage business, government, and grassroots in order to incubate and grow social enterprises to benefit enslaved and vulnerable communities
Polaris Project, polarisproject.org—For A World Without Slavery
The CNN Freedom Project, thecnnfreedomproject.blogs.cnn.com—Ending Modern Day Slavery
California Against Slavery, californiaagainstslavery.org—It's Time for Justice
WEAVE, inc., weaveinc.org—Provides crisis intervention services to women, men and children in Sacramento County who have experienced domestic violence or have been sexually assaulted
Run for Courage, runforcourage.com—The Race to End Sex Trafficking
Somaly Mam Foundation, somaly.org—Envisioning a world where women and children are safe from slavery
Red Thread Movement, redthreadmovement.org—End Human Trafficking. Combat Modern slavery.